At 27-inches width and only 10-inches depth, Wallit™ Panel is ideal for small spaces and high-traffic areas, providing secure mounting for 19 and 23" patch panels and communication accessories
---
Rackit® Technology Corporation today introduced Wallit™ Panel, a low-profile yet elaborate wall-mount communications enclosure.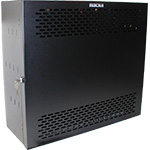 Only 10-inches deep, Wallit Panel utilizes its flexibility in positioning the mounting brackets within the height of the rack to accommodate various equipment depth while occupying minimal space on the wall.
The included 4U tilt-out bracket set allows tilting the mounted patch-panel out and down, for easy access to its rear, facilitating convenient punch-down access.
With included staggered (4U and 2U) mounting bracket set and optional 1U bracket-set, cable management rings, fiber box assembly, exhaust fan assembly, filter kit and RackiTies, Wallit Panel offers the flexibility your communication hub requires for mounting 19" and 23" patch-panels and communications accessories.

Contact your Rackit sales representative for further information or sales support, and ask about Rackit's life-time warranty on Rackit's racks and rack-accessories.