KVM, Audio and Serial Console Extension from PS/2, USB, or Sun Computers.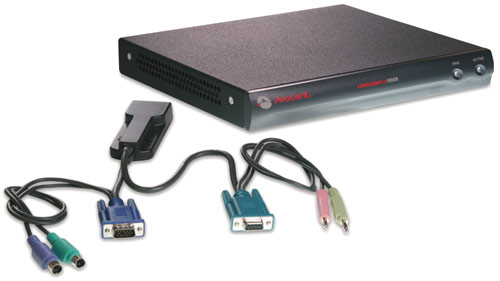 LongView 1000 is a point-to-point KVM, audio and serial device extender up to 1000 feet. LongView 1000 extends a keyboard, monitor, mouse, speakers, microphone and serial port up to 1000 feet away from a computer or a KVM switch.
Different LongView 1000 models support extending a console from a PS/2, or USB, or Sun computer, supporting eith PS/2 or USB peripherals on the extended end.
LongView 1000 system has a transmitter/receiver design with an interconnecting UTP cable.
LongView 1000 has a unique auto tuning feature that automatically compensates for both video skew and signal degradation over standard UTP cable without compromising the user experience. The skew compensation feature supports any combination of UTP cable in the extension path, as well as patch panel interfaces. If the connection path is altered in any way during operation, LongView 1000 will automatically adjust without any manual adjustment or user intervention.
LongView 1000 supports physical separation requirement between computers and their user-consoles, up to 1000 feet with any UTPcable without compromising your experience. LongView 1000 simple transmitter and receiver pair design allows for ease of installation and simple deployment.
Also known as: KVM extender, KVM extension, PC extender, Console extender, CAT5 KVM extender, CAT5 KVM extension, Keyboard monitor mouse extender, Remote KVM CAT5, Remote keyboard mouse monitor, Remote console, Keyboard video mouse extender
KVM Switch, Server Rack, LAN management cables, KVM Switches, rackmount, computer rack