Under-counter-mount / ceiling-mount / counter-mount / wall-mount secure equipment box
Wallit™ SuperBox was designed to safely and securely house small electrical equipment and IT rack-mounted gear, such as Ethernet switches, wireless routers, DVD players, digital recorders or digital-signage media-players.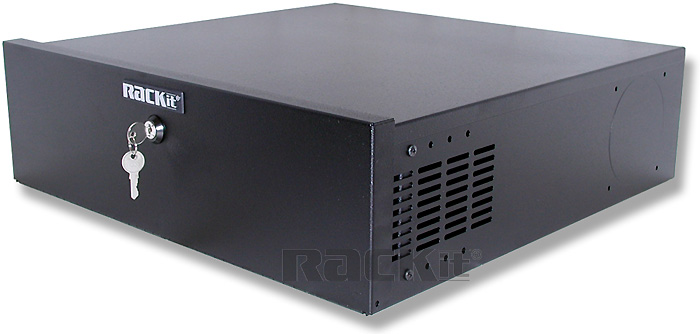 Featuring a hinged, lockable front cover and optional exhaust fans for extra equipment cooling, Wallit™ SuperBox is a fully enclosed and secured mounting box, featuring a 3U rack-mounting capability on its pair of heavy-duty front mounting rails with #10-32 pre-tapped mounting holes.
With a variety of mounting options (under counter; over counter; ceiling; flush to the wall; horizontally onto a wall), Wallit™ SuperBox can be easily attached or hung on nearly any surface.

With weight capacity of 100 lbs. and accommodating rack-mount equipment as deep as 19¼", Wallit™ SuperBox is constructed of 16 Gauge cold roll steel (with 14 Gauge mounting rails), finished with black durable-texture powder-coat finish.
KVM Switch, Server Rack, LAN management cables, KVM Switches, rackmount, computer rack