The most innovative cable-tie

RackiTie is a Velcro cable-wrap that holds groups of cables together for support and ease of maintenance. RackiTie is made to provide a secure hold when separating and managing multiple cables to your patch panels, switches or other networking devices.

RackiTies are used to bundle wires, cables and tubing firmly, but allow flexibility in terms of usability and adjustment.

Traditional cable zip ties are easy to over tighten when bundling cables. If you pull too tight, you risk damaging the fragile copper or glass found in network or fiber optic cables. Unlike zip ties, RackiTie is designed to not be over tightened - over tightening your cable bundles is no longer an issue.

RackiTies are reusable and infinitely adjustable self gripping straps, typically used to manage wires, cables, and fiber optics when setting up, installing, relocating or enhancing networks and data centers, especially in conjunction with cable-lacing panels.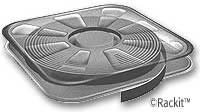 Black RackiTie Single features an 'X' hole at its Loop side making it easy to attach it to a backboard or a mounting rail using a screw.

Whether you're organizing, adding or moving cables, RackiTies can be used again and again, for up to 200 uses.

KVM Switch, Server Rack, LAN management cables, KVM Switches, rackmount, computer rack