When a top exhaust fan doesn't dissipate heat from a densely-populated enclosure, Ventit does!

Ventit fan trays create accelerated air-flow throughout a server/equipment cabinet, providing extra ventilation in densely populated enclosed racks.
Available in one or two 3-row models, Ventit fan trays are designed to accelerate air flow in the back of the cabinet, or in the front, or throughout.
Occupying only 1U rack space (1¾" high), Ventit fan trays can be mounted at any desired height inside the cabinet, generating vertical airflow (typically from the bottom to the top) for increased cabinet ventilation and heat dissipation.
Ventit x4V models – designed for 4-post rack-mounting – are depth-adjustable, with adjustable front and rear mounting tabs supporting mounting depth of up to 34-inches.
Ventit 34V – featuring 4-post mounting and one row of fans – allows sliding the row of fans to position the fans either at the front of the cabinet, or at the very back, or anywhere in between.
Ventit 32x models – designed for 2-post rack-mounting.
Ventit 32H typically mounts at the back of the cabinet, generating horizontal airflow, generally used for exhausting air from the enclosed rack through available vents in its rear door.
"V" indicates the fan tray generates vertical (top-bottom) air flow
"H" indicates the fan tray generates horizontal (front-back) air flow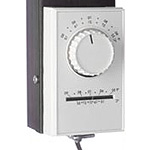 Use Ventit Controller to control the operation of Ventit fan trays based on internal cabinet temperature.
For pre-emptive temperature management – check out environmental monitoring systems that provide early warnings about insufficient airflow, raising temperatures and other environmental threats to your IT infrastructure.
KVM Switch, Server Rack, LAN management cables, KVM Switches, rackmount, computer rack