Ventit Controller controls the operation of rack cooling devices based on internal cabinet temperature.
Set Ventit Controller's thermostat to the desired temperature between 50° to 90°F. Once the temperature in the rack (where Ventit Controller is positioned) reaches the set temperature – Ventit Controller will start the operation of up to 2 cooling devices (such as Ventit fan trays) that are connected to it.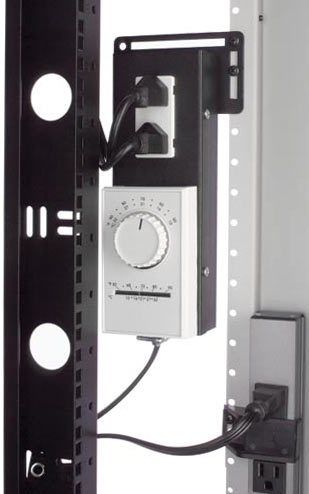 Ventit Controller can be used in any rack-enclosure that is equipped with a 15 amp cooling device or exhaust fan.
A multi-position mounting bar allows Ventit Controller to be located virtually anywhere in your enclosure.
Features
Thermostat controlled 15 amp duplex outlets
Built-in thermometer
50° to 90°F / 10° to 30°C temperature range
Multi-position mounting bar included
UL listed
CSA certified thermostat
Six foot power cord
Dimensions: 4.7"W x 10"L x 3.5"D (including mounting bracket)
For pre-emptive temperature management – check out environmental monitoring systems that provide early warnings about insufficient airflow, raising temperatures and other environmental threats to your IT infrastructure.
KVM Switch, Server Rack, LAN management cables, KVM Switches, rackmount, computer rack