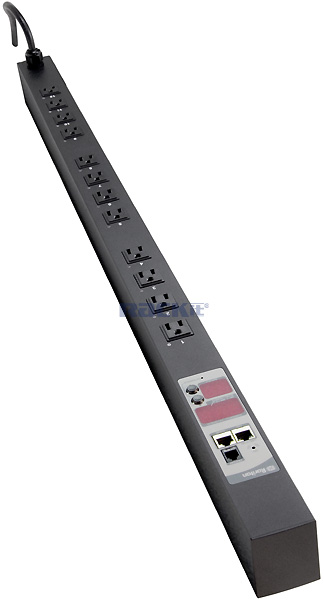 Outlet Metered, Outlet Switched Intelligent Rack PDUs.
The PX-5000 series of intelligent high-quality rack power distribution units (PDUs) provide secure, rack-level and individual outlet-level remote power metering and monitoring of current (amps), voltage, power (kVA, kW), power factor and energy consumption (kWh) with ISO/IEC +/- 1% billing-grade accuracy.
PX-5000 PDUs also support remote unit-level and outlet-level power switching and plug-and-play environmental sensors.
Users can define thresholds and receive alerts when thresholds are crossed for both power and environmental events.
PX-5000 series PDUs are available in Zero-U (vertical mount) and 1U and 2U (horizontal mount) form factors with a wide variety of NEMA, IEC and other plugs and receptacles, including models that support high power distribution such as 400V.
Precise power information can be monitored and displayed at the PDU locally.
PX-5000 can be configured via a user-friendly Web browser GUI or command line interface. Security is ensured with up to 256-bit encryption, strong passwords and advanced authorization options, including permissions, LDAP/S and Active Directory®.
PX-5000 series can be deployed as a stand-alone power distribution unit, or integrated with Power IQ® energy management system, KVM switches (such as Dominion KX II, Dominion KSX II and Paragon II) and IP central management systems.
KVM Switch, Server Rack, LAN management cables, KVM Switches, rackmount, computer rack