PS/2 rack-mount LCD flat panel KVM console drawers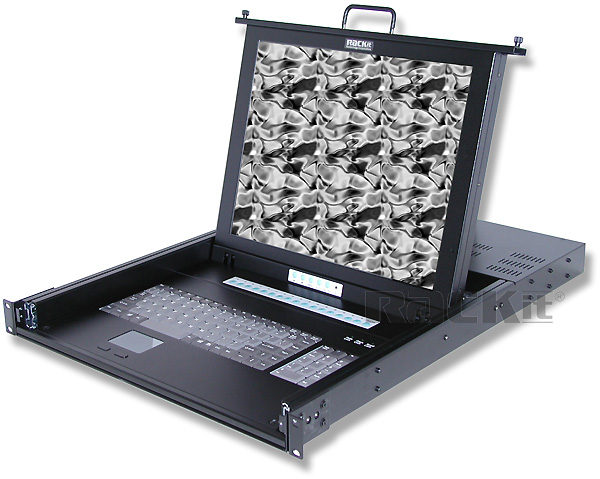 Using only 1U of EIA rack space (1.75" high), Sylphit-PS2 rack-mount integrated KVM computer console is designed to interface with a PS/2 server in a space-saving 19" rack-mount applications.
Sylphit-PS2 KVM drawer features a fully functional 105-keys Windows keyboard (including a dedicated numeric keypad), an integrated touch-pad pointing device, and an active TFT LCD flat panel display – protected by anti-glare tempered glass.
Controlling a PS/2 server or interfacing with a PS/2 KVM switch at the rack, Sylphit-PS2 features a 19" or 17" laptop-style tilting flat-panel LCD display that requires little pullout to tilt open and – as a result – hardly protrudes into the aisle space in front of the rack.
Equipped with industrial-grade heavy-duty slide-out rails with depth-adjustable rear mounting support, Sylphit-PS2 KVM drawers can be mounted in any standard 19" 4-post rack available in the market.
S-Class – A single-port console
Sylphit-PS2 S-Class models feature a single PS/2 interface typically used to connect to a stand-alone PS/2 KVM switch, or to one PS/2 computer.
Sylphit-PS2 S-Class models feature one set of industry-standard PS/2 (female) and VGA (female) connectors, and ship with one (1) 6-feet Zip KVM cable with PS/2 keyboard, PS/2 mouse, and VGA video connectors on each end. 3-in-one PS/2 KVM cables, up to 15-feet long, are optionally available.
Also known as: Rack mount KVM drawer, Keyboard monitor drawer, Rackmount LCD monitor keyboard drawer, KVM drawer, Rack mount monitor keyboard, Rackmount TFT LCD monitor, Rackmounted keyboard tray, Keyboard shelf, Folding monitor
KVM Switch, Server Rack, LAN management cables, KVM Switches, rackmount, computer rack