Rack-mount flat-panel KVM consoles and console/switche drawers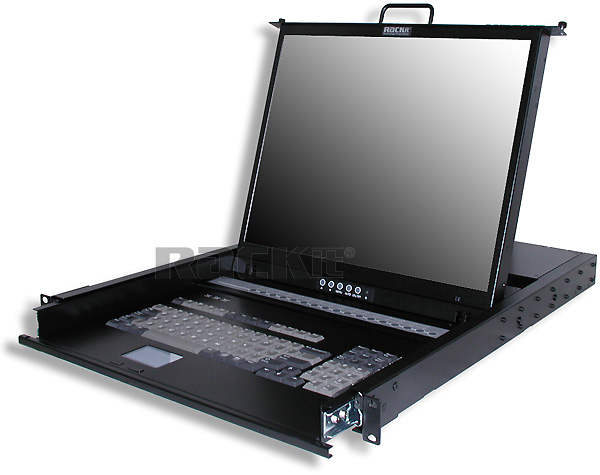 Using only 1U of EIA rack space (1.75" high), Sylphit LCD KVM console drawers are designed for space-saving 19-inch rack-mount applications.
The integrated KVM switches in Sylphit SK-class console/switch models let administrators instantly access and control up to 256 servers (USB, PS/2, Sun) connected to the console – locally or remotely over IP.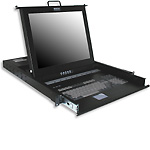 Sylphit LCD KVM console drawers feature a fully functional Cherry laptop-style membrane keyboard with a dedicated numeric keypad, and an integrated touch-pad pointing device.
Sylphit LCD KVM console drawers also feature a front-folding laptop-style active TFT LCD flat-panel tilting display that requires little pullout to tilt open, and – as a result – doesn't protrude into the aisle space in front of the rack. Protected by anti-glare tempered glass, Sylphit flat screen can be tilted up and back to adjust to any comfortable viewing angle.
Equipped with industrial-grade, heavy-duty, self-locking slide-out rails with depth-adjustable rear mounting support, Sylphit KVM drawer can be mounted in any standard 19" 4-post rack available in the market.
Sylphit is available in a number of different models supporting various computing platforms, and various classes supporting unique functionalities:
Sylphit Models
Sylphit Classes
Sylphit S-Class – A single-port console

KVM drawers with one port connection that are typically used to connect to a stand-alone KVM switch or to one computer.

Sylphit SK-Class – A multi-port console/switch (with integrated KVM switch)

Multi-port KVM drawers that come with a built-in 8- or 16-port KVM switch to control multiple servers at the rack.

Sylphit SK-Class ship with (8 or 16) 6-feet integrated (all-in-one) KVM cables used to connect the servers to the KVM switch. Additional KVM cables, up to 15-feet long, are optionally available.

Port expansion is supported via a dedicated cascading port that facilitates the connection of up to seven (7) more levels of KVM switches, to control up to 128 servers.
Also known as: Rack-mount KVM drawer, LCD console, Sun USB keyboard monitor drawer, Rack-mount LCD monitor keyboard drawer, Sun KVM drawer, Rack-mount monitor keyboard, Rack-mount TFT LCD monitor, Rack-mount keyboard tray, Keyboard shelf, Folding monitor
KVM Switch, Server Rack, LAN management cables, KVM Switches, rackmount, computer rack