Stationary, heavy-duty, long-range depth-adjustment, 4-post-mounting shelves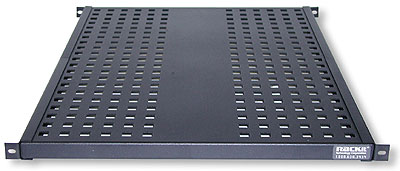 HLR 4-post-mounting shelves are designed for mounting heavy hardware like servers, UPSs, and the like, while their vented surface allow for maximum air circulation in the rack for optimal ventilation.
With a multi-depth-mounting design -- providing additional flexibility to any 4-post rack-mount installation, combined with easy assembly -- HLR 4-post-mounting shelves are fully compatible with Rackit's lines of server racks, and with virtually any 4-post 19" rack in the marketplace.
Rated at 200 lbs. (evenly-distributed weight load), HLR 4-post-mounting shelves adjust to the depth of your rack, offering a long range of depth adjustability. The multi-depth-mount design allows for the shelves' mounting brackets to adjust and align with the existing position of the vertical rack-mounting rails in the rack - both in the front and in the rear.

The multi-depth-mount design also provides for quick and easy installation, that can typically be performed by only one person.
Available in depths of 24- or 30-inches, with mounting tabs extendable up to 49½-inches in depth, HLR 4-post-mounting shelves are made of heavy-duty gauge steel with re-enforced construction.
NOTE: HLR Shelves are made to order and have a lead-time of 10 to 15 business days to ship.
KVM Switch, Server Rack, LAN management cables, KVM Switches, rackmount, computer rack