Wall-mount, swinging, 2/4-post-mounting datacom/telecom distribution enclosures
As small as 6U going up to 22U - LINIER 3130-series swinging enclosures are designed to solve the everyday problems technicians have while installing and managing the immense amount of cabling that is all-too-common with datacom and telecom equipment.
Don't work around the rack... get a rack that works around you!
Smartly engineered to include all the features you would expect at a competitive price point, LINIER swinging enclosure provides 19" rack-mounting capability on a swinging frame within a distribution enclosure that is designed to be mounted to the wall and comes with American-made manufacturing quality.
LINIER 3130-series swinging enclosures feature a 23-inch deep swinging section that gets closed off with a front locking tempered glass door. Front door and swinging sections lock independently for added security.
The swinging capability offers outstanding front and rear access to mounted equipment and cables, providing additional space and accessibility for terminating, installing and managing cables.
The 3" deep rear wall-mount section features top and bottom knockouts (three 3¼ x 1¼ oblong) for easy cable entry, and convenient maintenance.
Equipped with ventilation slots on the cabinet's front and both sides, LINIER 3130-series swinging enclosure is constructed of reinforced black powder-coated steel, and features a reversible mounting design, making left- or right-hand swinging possible.
The cabinet ships with one set of rack-mounting rails with 'universal' square holes (cage-nut compatible), made of heavy-duty 14 gauge steel to accommodate a weight capacity of 150 lbs. The mounting rails are 19"-EIA compliant with up to 8-inches continuously-adjustable depth positioning in both the front and the back of the cabinet. Additional mounting rails are available to support equipment that requires 4-post mounting.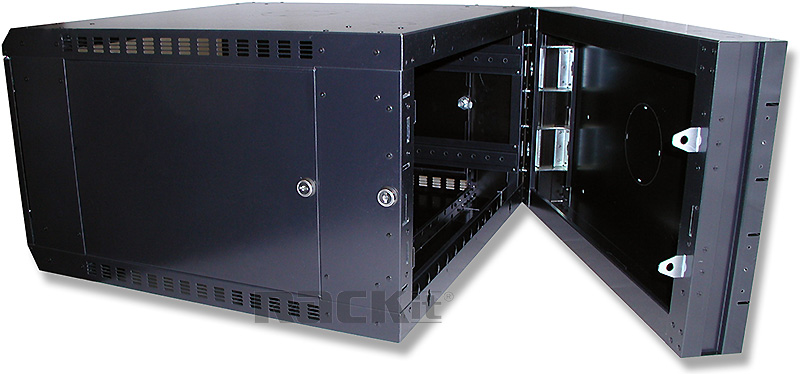 LINIER 3130-series swinging enclosures are available in the following heights:
♦ 6U (ships UPS/FedEx)
♦ 9U (ships UPS/FedEx)
♦ 12U (ships LTL freight)
♦ 15U (ships LTL freight)
♦ 18U (ships LTL freight)
♦ 22U (ships LTL freight)
KVM Switch, Server Rack, LAN management cables, KVM Switches, rackmount, computer rack