Wall-mount telco/network and server rack-mount solutions
Rackit's wall-mount racks are designed for mounting IT, network and telecommunication equipment, as well as servers and PCs onto the wall.
Rackit's wall-mount telco/network rack-mount solutions typically get implemented in space-saving environments, utilizing open or enclosed racks for telco distribution applications, small deployments of IT infrastructure and communication-closet applications.
Use Rackit's wall-mount telco/network rack-mount solutions to mount smaller intercom, paging and security systems, CAT-5, fiber and voice equipment, and most any IT and communications infrastructure such as patch panels, Ethernet switches, hubs, routers, firewalls, KVM switches, etc.
Facilitating a unique space-saving design, Wallit™ Edge models (Wallit™ Edge CL and Wallit™ Edge OX) also support mounting deep servers that require 4-post mounting.
A full range of shelves, cable-management systems, powere distribution units (PDUs) and accessories are available to complement the racks functionality, making Rackit's wall-mount enclosures suitable and adaptable to a variety of server and telco applications.

Rackit's wall-mount rack-mount solutions are available in two distinguished classes: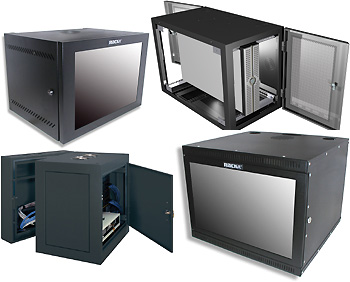 Enclosed Cabinets – Fully enclosed 4-post and 2-post mounting solutions for servers and other IT and telecommunication gear.
Rackit's wall-mount enclosed racks provide a secure environment within a smaller, space saving application.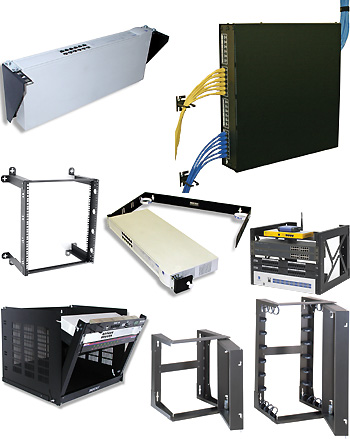 Open Racks/Brackets – Inexpensive wall-mount, rack-mount solutions offered in a variety of models for front-mounting network and telecommunication gear in "communication closet" applications and in small IT deployments, where physical security is not an issue.
KVM Switch, Server Rack, LAN management cables, KVM Switches, rackmount, computer rack