Dual-rail rack-mount flat-panel console/switch
Using only 1U of EIA rack space (1.75" high), Sylphit-Duo KVM drawer is designed for space-saving 19-inch rack-mount applications that require little keyboard/mouse interaction, allowing flush-with-the-rack video monitoring without protruding out of the rack, or even when the rack's front door is closed.
Sylphit-Duo models feature a separate slide-out drawer for the keyboard and mouse, allowing to have the display folded up an visible while the keyboard/mouse is "tucked in", occupying virtually no aisle space in front of the rack.
Each with their own dedicated pulling handle, both the display and the keyboard/mouse drawers can be pulled out separately. Pull out the (lower) keyboard/mouse drawer, and the display drawer slides out open with it. Pull out the display drawer, and the keyboard/mouse drawer remains in place.
Sylphit-Duo rack-mount KVM drawer is the network administrator's tool of choice when working in space-restricted server farms, crowded industrial and factory environments, and facilities where it isn't convenient or cost-effective to install a full-sized console to interface with a multi-server rack.
Additionally, Sylphit-Duo console/switch models' integrated KVM switch lets administrators instantly access and control up to 48 servers connected to the console.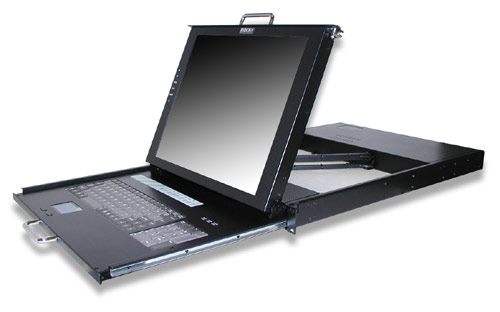 Sylphit-Duo KVM drawer features a fully functional membrane 105-keys Windows keyboard with a dedicated numeric keypad, an integrated touch-pad pointing device, and an active TFT LCD flat-panel display – protected by anti-glare tempered glass – that can be tilted to adjust to any comfortable viewing angle.
Equipped with two sets of industrial-grade, heavy-duty slide-out rails with depth-adjustable rear mounting support, Sylphit-Duo KVM drawer can be mounted in any standard 19-inch 4-post rack available in the market.
Sylphit DSK-817 model comes with a built-in 8-port KVM switch for PS/2 computers; a 17" display; ships with eight (8) 6-feet 3-in-one integrated KVM cables.
This Sylphit DSK-817 unit (S/N: ASI05J00190) has been on indoors display, and is in "as new" condition, covered by the original manufacturer's limited warranty until 11/6/2007.
See Sylphit-Duo product page for more information, literature ond photos of this product.
KVM Switch, Server Rack, LAN management cables, KVM Switches, rackmount, computer rack