The frame of Plyant CL series of racks is a fully welded 14 gauge steel structure, reinforced with horizontal crossbars running the entire depth on each side, providing high structural integrity, which enables the rack to hold up to 1,500 lbs of equipment.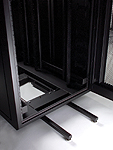 Special care went into designing a reinforced bottom helping overcome the perils of shipping while providing extra functionality.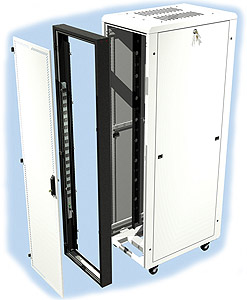 Anti-tip legs mount to the outside bottom of the frame and can be extended to prevent the cabinet from tipping over when the cabinet is on either glides or casters. When not in use, Plyant CL anti-tip legs can be retracted to safely clear the aisle.
A unique design allows for using leveling feet and casters in conjunction. Use the casters to easily move the rack around. Once in place - adjust the height of the leveling feet to level the cabinet and steadily position it in place.
Up to 8-inches of additional equipment depth can be gained with Plyant CL Depth-Extension-Modules. Mounted to either the back or the front of the cabinet, Plyant CL Depth-Extension-Modules provide top and bottom cable access, integrated bracket for installing a zero-U PDU, and utilize any of Plyant CL doors.
For creating unified rows of cabinets, Plyant CL employs a simple-to-use, no-tools-required ganging kit, that joins Plyant CL frames together through the corner posts (even without removing installed side-panels).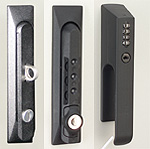 In addition to the (standard) locking "Lift-and-Swing" handle all Plyant CL doors come with, a variety of optional handles are available instead:
Dirak E-Line electronic handle
4-Digit combination handle
3-Digit combination handle
Pad-lock handle with key
Pad-lock handle