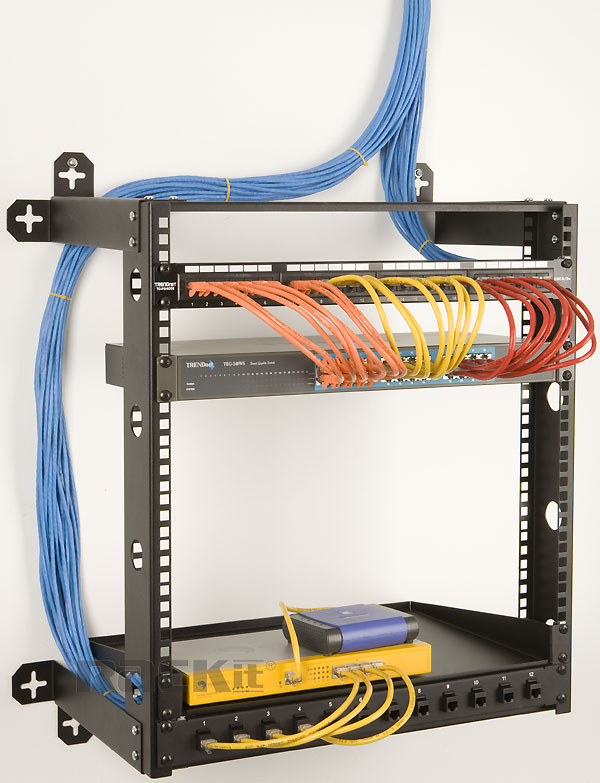 Fixed, Open Data-Comm Wall-Mount Racks.

Wallit™ Comm is a wall-mount, fixed, heavy-duty, open 19-inch rack that is self-squaring and incredibly easy to assemble and install.
19" EIA 310-D compliant with square rack-mount holes and 12" depth allowance, Wallit™ Comm is designed for mounting any front-mounting IT network and telecommunication equipment such as patch panels, Ethernet switches, hubs, routers, firewalls, KVM switches, etc.
Ideal for telecommunications closets, IT installers, audio/visual technicians and anyone in the telecom industry, Wallit™ Comm's self-squaring bolt together assembly and design is easy to assemble and install on-site.
Made of heavy-duty 14 gauge steel finished with black powder coating, Wallit™ Comm's uprights are sturdy, rated at 300 lbs. and featuring pass-thru holes for easy cable access.

With their knockdown design and a 300 lbs. weight capacity, Wallit™ Comm fixed racks are available at either 12U, 16U, or 21U models (approximately 22", 29", and 38" respectively).
KVM Switch, Server Rack, LAN management cables, KVM Switches, rackmount, computer rack