Mounting and support accessories for 2-post racks
Need to stabilize a 2-post rack loaded with equipment?
Need to mount a deep 1U server on a 2-post rack?
Need to secure an overhead ladder rack onto your 2-post relay rack?
Need to support a heavy piece of rack-mounted equipment and prevent it from sagging?
Need to convert two 2-post racks into a 4-post rack?
With their unique feature-set, 2-post racks occasionally present some real-world challenges for the network administrator in the data-center. Rackit's 2-post-rack accessories are tailored to alleviate some of these challenges.
Back Support Kit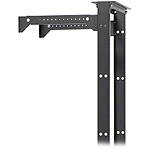 Back Support Kit is a depth-adjustable bracket kit designed to add additional support to the back of a 2-post rack.
• Support a 2-post rack to the wall for extra stability
• Converts two 2-post racks into one 4-post rack
• Adjustable from 20 inches to 34 inches in one-inch increments
• Compatible with 2-post racks fitted with cage nuts, slip nuts or pre-tapped holes that have mounting holes on the back side of their uprights
Ladder Bracket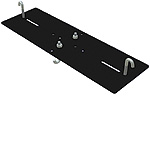 A Ladder Bracket integrates a Rackit Standard Relay Rack with your 'ladder' rack system.
• Mounts either parallel or perpendicular to support a 'ladder' rack running in either direction
• Works with 12", 15" and 18" 'ladder' rack-systems
Rear-Mount Support Kit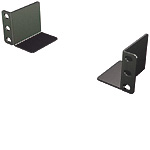 A Rear-Mount Support Kit is a pair of brackets that provide extra support at the back of a 2-post rack for mounting heavy equipment.
• Prevents equipment from sagging due to lack of rear support
• 100 lbs. weight capacity
• Compatible with 2-post racks is fitted with cage nuts, slip nuts or pre-tapped holes that have mounting holes on the back side of their uprights
KVM Switch, Server Rack, LAN management cables, KVM Switches, rackmount, computer rack