Integrated, retracting monitor/keyboard/mouse shelf for LCDs and CRTs
MVK Console Shelf is an integrated, all-in-one monitor/keyboard/mouse shelf designed for rack-mounting in 4-post racks.
MVK Console Shelf features a built-in keyboard tray that slides out and pivots, accommodating any full-width standard keyboard. Once pulled out, an integrated mouse tray becomes available in front of the keyboard for the convenience of using a mouse.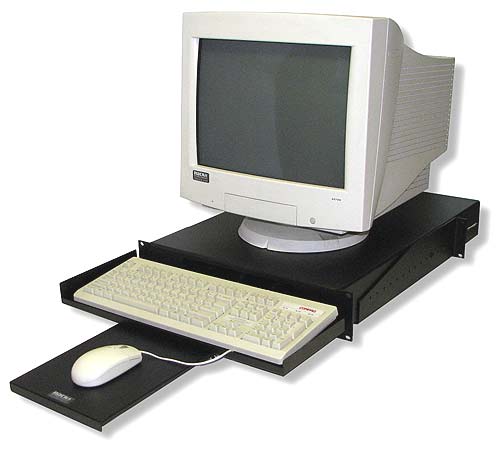 MVK's top doubles as a heavy-duty shelf for a monitor, easily handling the weight of the largest CRT displays.
MVK occupies only 2U rack space, with rear mounting brackets that can incrementally adjust to the depth of the rack.

Shown with a 17" CRT monitor, a full-width
keyboard, and a mouse (none of which are included!)
KVM Switch, Server Rack, LAN management cables, KVM Switches, rackmount, computer rack