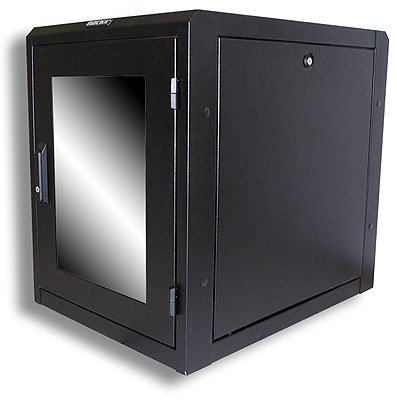 Perfect for under-counter applications, Plyant™ Low-Boy enclosed rack is 30-inches in height, designed for rack-mounting servers, network and communication equipment that conform to the 19" EIA rack-mount standard.

Offering 13U rack space, Plyant™ Low-Boy features:
Multi-vendor compatible mounting rails (square holes), with built-in cable management holes and RackiTie slots
Individual U-Index™ markings on the vertical rack-mounting rails, for easy positioning of rack-mounted equipment.
Continuous depth-adjustment of mounting rails
Reversible doors
Removable optional tops
Lockable side-panels
High weight capacity of 300 lbs.
A variety of accessories such as horizontal and vertical rack-mount cable organizers are available, along with shelves, rack-mount power strips, rack-mount keyboard/mouse trays, and M6 mounting screws.
Plyant™ Low-Boy is ideal for small offices, remote branch offices, school classrooms, store-chain branches, banks, or for any location in which a small deployment of IT gear needs to be enclosed and secured.
Plyant™ Low-Boy can be ordered in two (2) pre-configured and specially priced Redi-Ship models, or by mixing-and-matching components a-la-carte.
Also known as: 19-inch Rack-Mount, 19-inch Server Rack, Computer Cabinet, Computer Rack, Computer Rack-Mount, Computer Rackmount, Computer Server Rack, Datacenter Rack, LAN Rack, Rack Enclosure, Rack-Mount Cabinet, Rack-Mount Enclosure, Rack-Mount Solution, Rack-Mount System, Server Enclosure, Server Rack, Server Rack-Mount, Workstation Rack
KVM Switch, Server Rack, LAN management cables, KVM Switches, rackmount, computer rack