Aluminum or steel open racks for rack-mounting telco / network / computer equipment
Also known as 'Relay Racks' or 'Open-Bay Racks', Rackit's 2-post heavy-duty open racks are designed to accommodate rack-mount telecommunication equipment, front-mounting network appliances and peripherals, with optional shelves accommodating LAN servers and other IT gear.
Designed to be either free-standing or get bolted to the floor, Rackit's 2-post racks provide unrestricted airflow for maximum ventilation, easy access to cables for moves, adds and changes and high static load ratings.
A full range of shelves, cable-management systems, rack-mount PDUs, and accessories are available to complement the racks functionality, making Rackit's 2-post racks suitable and adaptable to a variety of telecommunication and data center applications.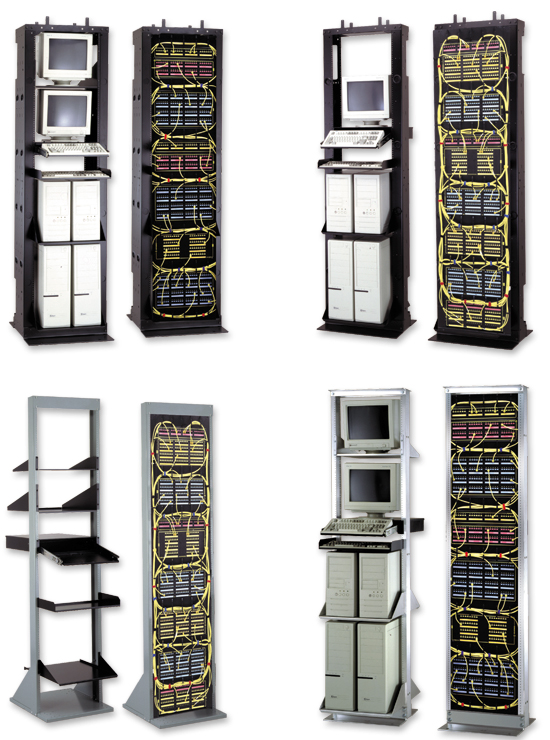 Wire-Management Relay Racks

Strandit 41 heavy-duty 41U cable-management relay rack ships UPS/FedEx Ground, featuring ample space for intense cable-runs within a 2-post telco rack.
• High weight capacity 1200 lbs.
• Two 4x3" uprights serve as vertical cable channels, eliminating the need for external cable managers
• Free-standing or anchored to the floor
• Stand-alone of gang-able (networked)
• Small footprint - fits over a 24" floor tile
• Square universal mounting holes (cage-nut-compatible), front and back
• Ship UPS/FedEx Ground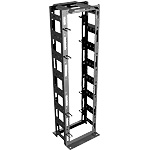 Strandit 85 19-inch wire-management telco rack offers an elaborate cable management capability for wire-intense applications.
• 19" rack-mount @ 84" high (45U)
• Facilitate overhead cable routing
• Integrated cable D-rings and cable tie anchors
• Wide and deep uprights channels with side cable pass through holes
• #12-24 pre-tapped mounting holes, front and back
• 14 Gauge steel construction
• Black finish
• UL listed
Comit Relay Racks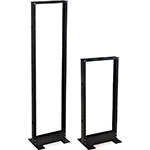 Made of cold rolled steel, Comit relay racks support 800 lb weight load, featuring built-in grounding studs
• #10-32 pre-tapped mounting holes on front and back of upright rails
• 3-inch deep upright rails support large cable-runs
• Rails feature four ¼-20 grounding studs for electrical grounding
• Ganging holes support networking racks together
• Cable pass-through holes support cable runs in between ganged racks
• Ship knocked down UPS/FedEx Ground
• Heavy-duty 14-gauge steel construction
• 800 lbs. weight capacity
Free-Standing Relay Racks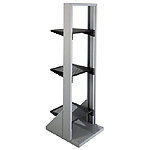 Free-Standing Relay Racks feature a deeper-base design for 19-inch telco rack applications, eliminating the need to be bolted to the floor.
• Standard-duty and heavy-duty models available
• 19" rack-mount
• 21U, 38U, 41U, and 44U
• Support optional casters
• 12 Gauge steel construction
• #10-32 pre-tapped front mounting holes
• Smoke Blue Textured "Sandtex" finish
• Ship UPS/FedEx Ground
Standard Relay Racks
Standard Relay Racks are the most commonly-used telco racks, 19-inch EIA rack-mount standard, designed to be bolted to the floor.
• 19" rack-mount
• 84"/45U, 72"/38U, 66"/35U, 60"/31U, 48"/24U, 36"/18U
• #12-24 pre-tapped mounting holes, front and back
• Support Inter-Bay Vertical Trough for cable-intensive applications
• Aluminum construction
• Black or aluminum-brush finish
• UL listed
• Ship UPS/FedEx Ground
KVM Switch, Server Rack, LAN management cables, KVM Switches, rackmount, computer rack