General purpose single-sided shelves for front-mounting light- to medium-weight IT peripherals onto 2- or 4-post racks and wall-mount racks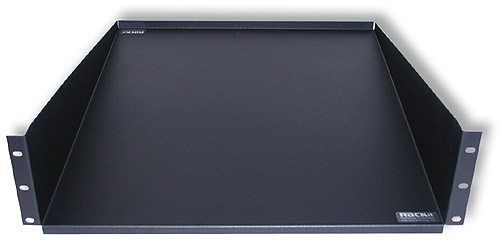 General purpose cantilever shelves are designed for front-mounting onto 2-post racks, 4-post racks and wall-mount racks for single-sided mounting applications.
When mounted in 4-post racks, Rackit's cantilever shelves offer the flexibility of being mounted anywhere in the rack without using rear rack-space.
Heavy-duty cantilever shelves are made of 14-gauge steel and feature two flanges running the width of the shelf, both in the front and in the back, for added strength and rigidity.
Rackit's heavy-duty cantilever shelves support a weight-load of 70-150 lbs, ideal for heavy non-rack mountable equipment such as computers, battery backups and UPSs.

Each U space on the shelves' mounting flaps features four mounting holes (two on each side) for a super-sturdy installation, supporting rack screws that match your rack.
Standard-duty cantilever shelves are constructed of 16- and 18-gauge steel to keep the cost down, while supporting 25-60 lbs. of weight-load.
Rackit's standard-duty cantilever shelves are perfect for light-weight non-rack mountable peripherals such as modems, wireless routers, KVM switches and LCD-screens.
All Rackit's cantilever shelves are meticulously constructed with rounded corners, eliminating sharp edges which could potentially damage equipment, cabling, or installers' hands while handling.
Rackit's cantilever shelves are compatible with any-type IT rack-mounting, with either pre-tapped or cage-nut style mounting rails.
Made in the USA and offered with a lifetime warranty, Rackit's cantilever shelves feature a textured black powder coat finish that lends durability to the shelf, while helping to keep it free of scratches.
KVM Switch, Server Rack, LAN management cables, KVM Switches, rackmount, computer rack