Rack-mount storage drawers
Rackit's rack-mount storage drawers complement any equipment installation by providing the means to store user-guides, media, and other small odds and ends in a lockable pull-out drawer within your IT equipment installation.

A sturdy, safe slide-out metal enclosure that keeps non-rack-mountable items safely where you need them, Rackit's rack drawer offers an "in-rack" storage solution for 19-inch racks and cabinets that makes it easy to secure server hardware and rack/cabinet accessories.
Available in 2U, 3U and 4U, Rackit's rack drawers feature a heavy duty steel construction and a built in lock, allowing you to secure mission critical hardware and accessories at the rack.
Rackit's rack drawers ship fully assembled, and includes the accessories required for simple installation.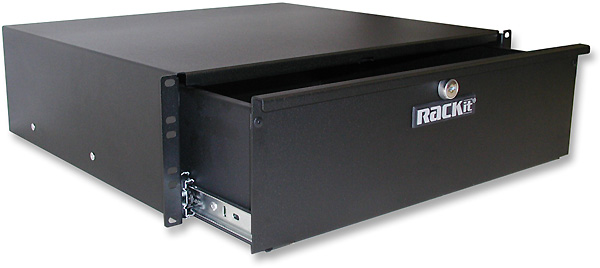 KVM Switch, Server Rack, LAN management cables, KVM Switches, rackmount, computer rack