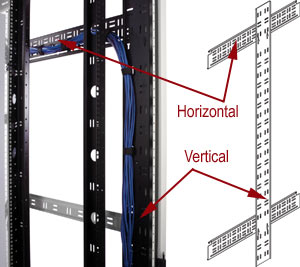 Plyant CL Lacing Bars (for cable management)
Plyant CL Lacing Bar Kit includes:

One (1) vertical lacing bar (matching the cabinet's height)
Two (2) horizontal lacing bars (matching the cabinet's depth)
Six (6) 12" long, ¾" wide Velcro straps with buckle and grommet

Vertical and horizontal lacing bars are available independently. At least one (1) vertical lacing bar is required in order to mount any number of horizontal lacing bars.

Every vertical lacing bar ships with six (6) 12" long, ¾" wide Velcro straps with buckle and grommet.

Optional RackiTies provide additional means for bundling cable runs onto Plyant CL lacing bars.
Plyant Zero-U PDUs
Plyant Zero-U power distribution units (PDUs) – installed vertically in a Plyant rack occupying no rack-space – get pre-installed when ordered with the rack.

Plyant PDU Mounting Brackets are also available for mounting universal Zero-U PDUs in the inside corner of a Plyant enclosure.

Model

Length

Outlets

Amps

Volts

Plug

Receptacles

Cord
Length

Special
Features

PLT8-15

25-inches

8

15A

125V

5-15P

5-15R

15-feet

Circuit Breaker

PLT16-15

49-inches

16

15A

125V

5-15P

5-15R

15-feet

Circuit Breaker

PLT16-15S

49-inches

16

15A

125V

5-15P

5-15R

15-feet

Surge Suppressor

PLT16-20

49-inches

16

20A

125V

2-20P

5-20R

15-feet

Circuit Breaker

PLT16-20L

49-inches

16

20A

125V

L5-20P
Twist-Lock

5-20R

15-feet

Circuit Breaker
Other Accessories
Specifically designed for re-use and characterized by the ease of branching cables in-and-out, Rackit's cable-management products are designed to address the daunting task of managing wires and cables within a rack-installation.

Keyboard/Mouse Accessories

Keyboard/mouse trays and integrated keyboard/mouse/monitor shelves, Rackit's keyboard/mouse accessories provide a useful and convenient way of mounting your keyboard mouse and monitor in your rack.

1U LCD keyboard/mouse rack-mount console drawers featuring 19" and 17" lap-top-style folding display, single-rail and dual-rail models, integrated KVM switches compatible with USB, Sun and PS/2 servers for local access at the rack or remote access over IP.

Environmental Monitoring Systems

External Threat Detection (ETD) systems provide early warning of conditions that can lead to equipment failure, giving you the valuable lead-time you need to save your network from costly downtime.

Remote Power Control

Remote power control over IP, providing the ability to remotely power on, power off or cycle power to any connected IT or network device.

Power Distribution Units (PDUs)

Whether occupying zero-U or rack-mounted in your rack, Rackit's PDUs offer a wide selection to effectively distribute and mange power in your rack installation.

Cooling Accessories

Exhaust fans, air-blower and controller, all designed to enhance and regulate airflow inside an enclosed equipment rack to keep its temperature cool.

Filler Panels

Used to close up un-used space in the rack, Filler Panels are also a cost-effective cooling accessory, ensuring that mounted devices do not recycle warm exhaust air.

Shelves

An assortment of models, either stationary or pull-out (sliding), Rackit's shelves are engineered to support the weights of any IT gear in either 4-post or 2-post racks.

Drawers

2U, 3U and 4U lockable rack-mount storage drawers, designed for securely storing odds and ends in a 2-post or 4-post 19" rack.

Mounting Screws

Used with different styles of racks (pre-tapped #10-32, #12-24 or square holes), rack-mounting screws are used to mount equipment, shelves, and accessories onto racks.

Grounding Accessories

Copper bus bars and grounding kits are used to ground networking equipment to the building's ground outside of a rack.

Conversion Kits

Conversion kits are sets of brackets of various heights that convert the width of a wider rack (24" or 23" wide) to conform to 19" EIA rack-mount standard.

(For 2-Post Racks)

A depth-adjustable bracket kit designed to add additional support to a 2-post relay rack (such as Standard Relay Rack or Strandit).

(For 2-Post Racks)

RMS244 2-Post Server Mounting Kit is an innovative rail system that supports mounting a 1U server into a 2-post rack system.

(For Standard Relay Rack)

A bracket kit designed to support the connection of Rackit's Standard Relay Rack to "ladder" rack systems that are typically used in communication centers and server rooms.

(For 2-Post Racks)

A Kit designed to work with Rackit's Strandit 85 rack and Standard Relay Rack, to provide additional rear support for any front mount equipment.

Wallit™ CPU

Wall-mount brackets accommodating desktop/tower computers for getting the computer off the floor (or off the desktop).
KVM Switch, Server Rack, LAN management cables, KVM Switches, rackmount, computer rack