Wall-mount telco/network and server enclosed and secured rack-solutions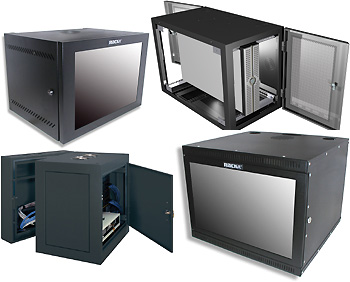 Rackit's wall-mount enclosed cabinets are designed for mounting IT, network and telecommunication equipment, as well as servers, PCs, audio/video equipment and mobile devices onto the wall.

Use Rackit's wall-mount enclosures to mount:
Patch panels
Ethernet switches
Network hubs, routers, firewalls
KVM switches
Servers
DVRs and media-players
Audio/video equipment
Tablets and mobile devices
Laptops
Rackit's wall-mount enclosures typically get implemented in small IT infrastructure deployments and communication-closet space-saving applications for telco, distribution, smaller intercom, paging, and security systems, CAT-5, fiber, voice and most any communications mounting needs.
A full range of shelves, cable-management systems, power distribution units (PDUs) and accessories are available to complement the racks functionality, making Rackit's wall-mount enclosures suitable and adaptable to a variety of server and telco applications.
Available wall-mount enclosure models include:
2-post-mounting enclosures
Special

Characteristics

Models

Mounting

Depth

Weight

Capacity

Mounting

Rails

Highlights

DISCONTINUED

2-post mounting

6U

9U

12U

15U

18U

22U

22½ inches

250 lbs.

Universal

(square-holes)

Depth-adjustable

(1 set)

• Locking front tempered-glass door

• Locking side panels

• Top, bottom and rear cable-access

• Reversible mounting design

DISCONTINUED

2-post mounting

Swinging

6U

9U

12U

15U

18U

22U

22 inches

150 lbs.

Universal

(square-holes)

Depth-adjustable

(1 set)

• 90° swing-out with a positive stop

• Locking front tempered-glass door

• Locking side panels

• Top, bottom and rear cable-access

• Reversible mounting design

DISCONTINUED

2-post mounting

8U

19¼ inches

250 lbs.

Universal

(square-holes)

Depth-adjustable

(1 set)

• Smoked scratch-resistant gray acrylic front window

• Locking, removable (tool-less) front door

• Snap-in mounting rails

• Top and bottom cable-access

• Optional exhaust fan

Wallit SuperBox

DISCONTINUED

2-post mounting

Flush-to-the-wall mounting

3U

5U

19¼ inches

100 lbs.

#10-32

pre-tapped

Depth-adjustable

(1 set)

• Optional Wallit Shelf 17-21 for horizontal wall-mount

• Side cable-access

• Slot patterns for ventilation

• Optional exhaust fan

• Top cover snaps out for easy access

2-post mounting

6U

9U

12U

16.8 inches

150 lbs.

#10-32

pre-tapped

Depth-adjustable

(1 set)

• Locking acrylic front door

• Optional exhaust fan

• Hanging bracket for easy, one-person installation

• Top and bottom cable-access

2-post mounting

2-section design

for one-person installation

7U

15¾ inches

100 lbs.

#10-32

pre-tapped

Depth-adjustable

(1 set)

• Locking front door

• Solid or see-through front door

• Optional exhaust fan

• Tool-less depth-positioning mounting-rail adjustment

• Top and bottom cable-access

2-post mounting

For patch panels and

communication accessories

24 inches

36 inches

48 inches

(height)

Varies

250-350 lbs.

#12-24

pre-tapped

(Multiple sets)

• Includes 1 staggered and 1 tilt-out bracket sets, 4U
• Additional bracket sets can be added
• Vertically-adjusted mounting-bracket positioning
• Field-reversible perforated front door with key lock
• Optional exhaust fan and filter assembly
• Top, bottom and side cable-access
• Optional 1U bracket set
• Optional cable management rings
• Optional fiber-spool assembly
---
4-post-mounting enclosures
Special

Characteristics

Models

Mounting

Depth

Weight

Capacity

Mounting

Rails

Highlights

4-post mounting

Extra deep

Swinging

11U

18U

25U

30 inches

250-350 lbs.

#12-24

pre-tapped

Depth-adjustable

(2 sets)

• Finger pull/latch for opening center swing section

• Plexiglass or solid front door

• Top, bottom and rear cable-access

• Cabinet's sides are vented

• Optional dust-resistant kit

• Optional exhaust fan

• Optional casters

4-post mounting

Sideway mounting

10U

29 inches

(34 inches available depth)

350 lbs.

Universal

(square-holes)

Depth-adjustable

(2 sets)

• Mounting rails infinitely adjust to servers depth

• Mesh side doors

• Removable front panel

• Lockable front panel and doors (same key-lock)

• Optional exhaust fan mounting

• Only 20½ inches deep

DISCONTINUED

4-post mounting

(with optional extra rails)

6U

9U

12U

15U

18U

22U

22½ inches

250 lbs.

Universal

(square-holes)

Depth-adjustable

(1 set)

• Locking front tempered-glass door

• Locking side panels

• Top, bottom and rear cable-access

• Reversible mounting design

DISCONTINUED

4-post mounting

(with optional extra rails)

Swinging

6U

9U

12U

15U

18U

22U

22inches

150 lbs.

Universal

(square-holes)

Depth-adjustable

(1 set)

• 90° swing-out with a positive stop

• Locking front tempered-glass door

• Locking side panels

• Top, bottom and rear cable-access

• Reversible mounting design

4-post mounting

NEMA-12 rated

Swinging

12U

19U

26U

22 inches

150-300

#12-24

pre-tapped

Depth-adjustable

(2 sets)

• Protection against liquid dripping and splashing

• Certified to NEMA-250-1997 Type 12

• 16-gauge steel solid front door

• Independent locks for front and rear sections

• Top, bottom and rear cable-access

• Key locks fitted with dust covers

4-post mounting

Swinging

12U*

19U**

25U**

*15½ or 22 inches

**22 inches

150-300 lbs.

#12-24

pre-tapped

Depth-adjustable

(2 sets)

• Independent locks for front and rear sections

• Plexiglass or solid front door

• Cabinet's sides are vented

• Optional exhaust fan

4-post mounting

Heavy-duty

Swinging

11U

18U

25U

21 inches

250-350 lbs.

#12-24

pre-tapped

Depth-adjustable

(2 sets)

• Finger pull/latch for opening center swing section

• Plexiglass or solid front door

• Solid or vented sides

• Top, bottom and rear cable-access

• Optional exhaust fan

• Optional casters

DISCONTINUED

4-post mounting

(with optional extra rails)

8U

19¼ inches

250 lbs.

Universal

(square-holes)

Depth-adjustable

(1 set)

• Smoked scratch-resistant gray acrylic front window

• Locking, removable (tool-less) front door

• Snap-in mounting rails

• Top and bottom cable-access

• Optional exhaust fan
---
Storage enclosures
Special

Characteristics

Models

Storage

Depth

Weight

Capacity

Dimensions

Highlights

Storage rack

Tablet/laptop charging station

6 inches

75 lbs.

30 (w) x 33 (h) inches

• Electronic charging cabinet for tablets and laptops

• Holds 8 to 12 tablets (or laptops, depending on size)

• Wall-mountable with low profile (only 6.5" deep)


• Accepts any brand of tablet or charging cable

• Ships with a power strip and cable holders


DISCONTINUED

Storage rack

270° swing-open front door

21-inch deep

15 inch deep

20½ inches

14½ inches

100 lbs.

(w/ optional brackets)

20 (w) x 9 (h) inches

16 (w) x 5¼ (h) inches

• Locking front door

• Tamper-proof recessed front-door hinge and fan grates

• Top and rear cable-access

• Optional exhaust fan

• Optional wall-mount bracket kit
---
Swinging enclosures
Special

Characteristics

Models

Mounting

Depth

Weight

Capacity

Mounting

Rails

Highlights

Swinging

Extra deep

4-post mounting

11U

18U

25U

30 inches

250-350 lbs.

#12-24

pre-tapped

Depth-adjustable

(2 sets)

• Finger pull/latch for opening center swing section

• Plexiglass or solid front door

• Top, bottom and rear cable-access

• Cabinet's sides are vented

• Optional dust-resistant kit

• Optional exhaust fan

• Optional casters

DISCONTINUED

Swinging

2-post mounting

6U

9U

12U

15U

18U

22U

22 inches

150 lbs.

Universal

(square-holes)

Depth-adjustable

(1 set)

• 90° swing-out with a positive stop

• Locking front tempered-glass door

• Locking side panels

• Top, bottom and rear cable-access

• Reversible mounting design

Swinging

NEMA-12 rated

4-post mounting

12

19

26

22 inches

150-300

#12-24

pre-tapped

Depth-adjustable

(2 sets)

• Protection against liquid dripping and splashing

• Certified to NEMA-250-1997 Type 12

• 16-gauge steel solid front door

• Independent locks for front and rear sections

• Top, bottom and rear cable-access

• Key locks fitted with dust covers

Swinging

4-post mounting

12U*

19U**

25U**

*15½ or 22 inches

**22 inches

150-300 lbs.

#12-24

pre-tapped

Depth-adjustable

(2 sets)

• Independent locks for front and rear sections

• Plexiglass or solid front door

• Cabinet's sides are vented

• Optional exhaust fan

Swinging

Heavy-duty

4-post mounting

11U

18U

25U

21 inches

250-350 lbs.

#12-24

pre-tapped

Depth-adjustable

(2 sets)

• Finger pull/latch for opening center swing section

• Plexiglass or solid front door

• Solid or vented sides

• Top, bottom and rear cable-access

• Optional exhaust fan

• Optional casters
KVM Switch, Server Rack, LAN management cables, KVM Switches, rackmount, computer rack