Cable channels and virtual troughs for running cables vertically (top-to-bottom) along the uprights of an IT rack
Rackit's vertical cable organizers support cables runs from top to bottom for meticulous cable management. Rackit's vertical cable organizers provide the means for a cable-intense installation of a Telco or equipment rack, resulting in a meticulous, clean and well organized cable installation in 2-post and 4-post racks.
For low- to medium-density cable runs, multiple cable-rings (of various capacities) deployed one above the other onto the rack's upright form a virtual vertical trough which keeps the cable-run bundled together and well organized.
For high-density cable runs, Inter-Bay Vertical Trough provides ample space for intensive wire-management alongside the rack's uprights, and in between networked (ganged-together) racks.
Rackit's vertical cable organizers are designed for re-use, and are characterized by the ease of branching cables in-and-out.

To facilitate routing a vertical cable-run from one side of the rack to the other side, BridgIT and Waterfall feature curved edges facilitating an increased cable-bend radius for a smooth horizontal-to-vertical cable-flow.
---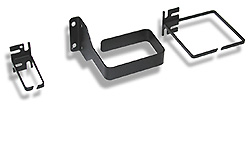 • Durable steel construction with black powder-coat finish
• Corners are rounded to avoid snagging or damaging cables, keeping installer's hands safe
• Flexible design supports rack-mounting in different positions
• Compatible with tapped and cage-nut style rails
• Can also be mounted on backboards, along walls or under desks
• Available in various sizes to support from 2.4 to over 14 square-inch cable-capacity
• 19" EIA 310-D rack-mount compliant
• Made in the USA
• Limited lifetime warranty
---

• Double-sided vertical cable channel
• Compatible with Servit, Strandit 85 and Standard Relay Racks
• 84" high x 6" wide x 10" deep
• Channels facing both front and back
• Six grommet holes for front to back cable pass through
• Easy to operate pivoting cable-retainer latches for securing cables
• Over 40 slots to be used with (optional) RackiTie for meticulous cable management
• Optional cover fits on front or back, for clean and aesthetic installation
• Sturdy 14-gauge steal construction with black powder-coat finish
---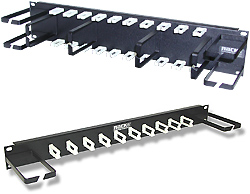 • Support horizontal left-to-right cable routing
• Support vertical cable routing on both sides of the rack
• Durable steel construction with black powder-coat finish
• Rotating micro wire clips for meticulous wire routing in any direction
• Micro wire clips feature a latch-gate to secure wires in place
• 1U and 2U available models
• Flanged panel for extra rigidity
---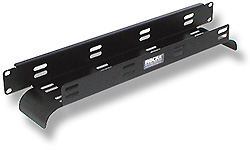 • Support horizontal (left-to-right) and vertical (top-to-bottom) cable routing
• Durable steel construction with black powder-coat finish
• Waterfall edges on both sides support a gentle cable drop
• 3½" deep horizontal channel/trough, 1U
• Optional RackiTies keep cables situated in channel
• Flanged panel for extra rigidity
---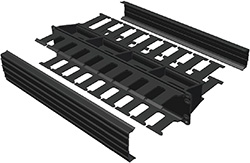 • Support horizontal left-to-right cable routing
• Durable plastic construction in black
• Covers protect and conceal cables for a clean look
• Waterfall accessories support smooth horizontal-to-vertical cable-flow
• 1U and 2U models
• Single-sided and double-sided models
• Double-sided model also supports vertical cable-runs
---
KVM Switch, Server Rack, LAN management cables, KVM Switches, rackmount, computer rack