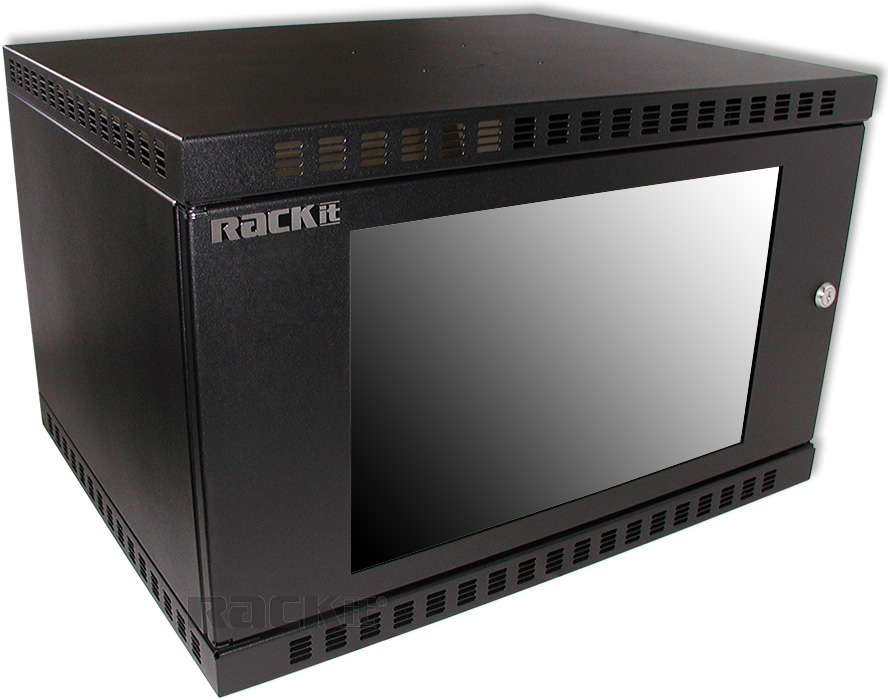 Easy to hang on the wall
Wallit SH ships with a hanging bracket included, making it easy for a one person install. The hanging bracket runs the width of the cabinet, featuring multiple holes to facilitate stud and non-stud wall-mounting. Once the hanging bracket is mounted to the wall, Wallit SH hangs on it, making it easy to complete the wall-mounting through four available key-holes.
Adjustable tapped rails
Wallit SH ships with one set of #10-32 pre-tapped mounting rails. Four (4) available positions in the front of the cabinet make the rails depth-adjustable in 1-inch increments for a maximum usable depth of 16¾ inches.
Ventilation
Wallit SH is fitted with ventilation slots surrounding the cabinet on both sides and in front, both top and bottom of the rack. Additional airflow can be generated with mounting one or two optional 120mm exhaust fans on cabinet's top and bottom.
Cable access
Two 2"-diameter cable knockouts on both top and bottom panels can be used to facilitated extensive and well-organized cable management.
Solid, secure enclosure
Wallit SH is made of cold rolled steel and a welded frame with solid side panels and a locking see-through front door, rated at 150 lbs. weight-load.
Highlights
• 16¾ inches maximum usable mounting depth
• Adjustable #10-32 pre-tapped front mounting rails
• 150 lbs. weight capacity
• Locking acrylic door
• Solid sides
• Hanging bracket for easy, one-person installation
• Welded frame construction
• 19" EIA compliant
• Made in the USA
• Limited lifetime warranty