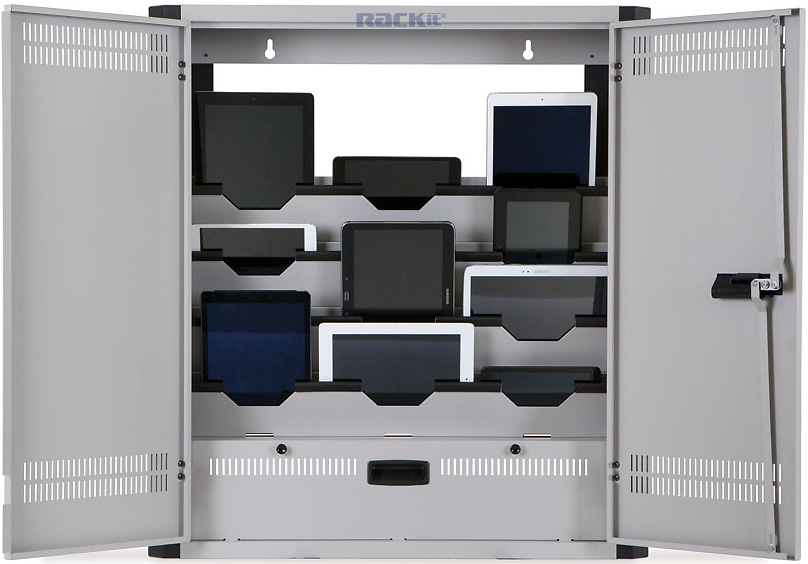 Holds multiple devices. Wallit Charge has four shelves that can hold up to three devices per shelf. Depending on the size and orientation of each device, it can hold 8-12, 12" tablets (or laptops).
Adhesive cable holders and cable slots. To run cables in the direction you prefer, nine adhesive backed cable holders are included. Upon installation, put each adhesive cable holder in the location of your choice. Then run cords through the cable slots down to the power strip located in the bottom panel.
Locking, dual front doors. To maintain security and keep the stored tablets and laptops safe from tampering or unauthorized use, Wallit Charge can only be accessed with a key. Both doors also have a solid design to prevent unauthorized viewing.
Well-protected equipment. Each shelf is lined with rubber strip edge protectors to help prevent damage to devices.
Cable access. Laser knockouts are featured on the top and bottom of the cabinet, providing cable entry points. Two rubber grommets are also provided.
Universal utility. Wallit Charge was designed to adapt with evolving technology. It's a universal storage and charging center that works with multiple brands, sizes, and styles of tablets and laptops.

Ventilation. Vented slots throughout the cabinet provide convenient air flow inside the cabinet to help keep the devices cool.
Light weight construction. With its aluminum construction, Wallit Charge wall mount charging station is light weight and easy to install.
Note: Pictured tablets not included with Wallit Charge.