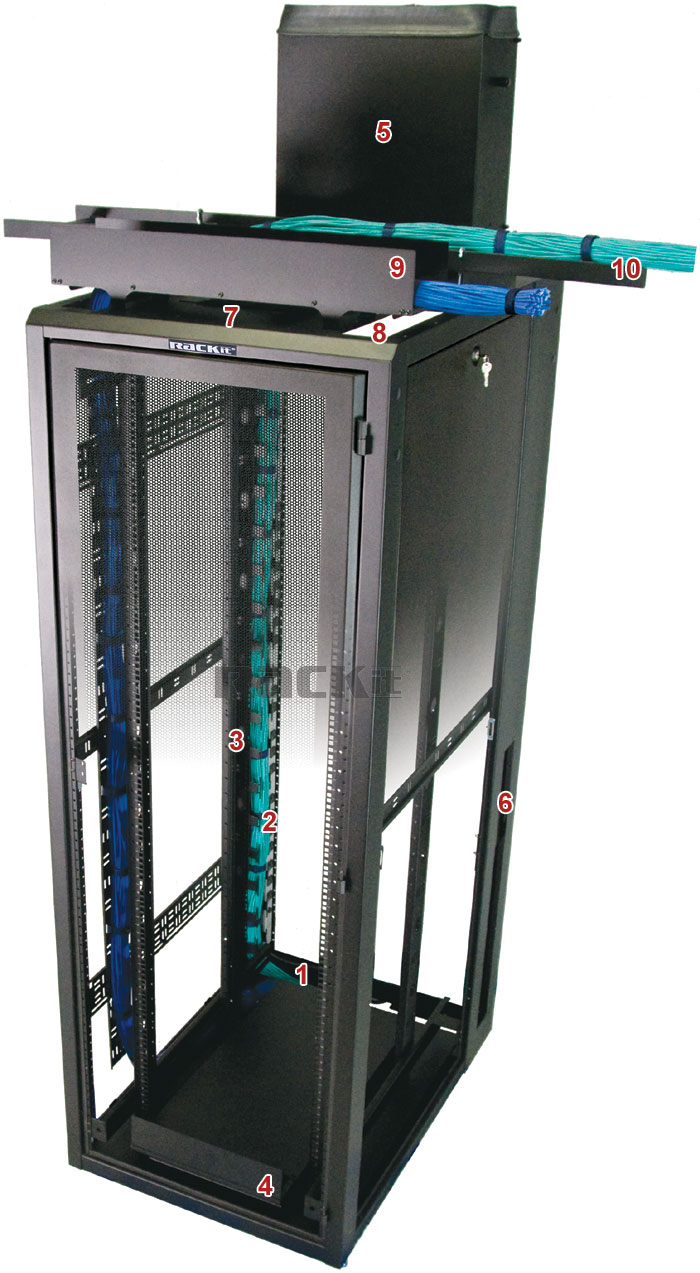 1) Extra space behind Plyant CQ's rear rails (5 to 11 inches) creates a large cavity designated for mounted Zero-U PDUs and additional cable organizers.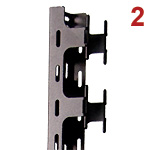 Up to three (3) optional Vertical Cable Troughs can be installed to each Plyant CQ rear corner post, providing meticulous management of large cable bundles.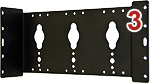 Universal power-strip mounting-brackets (ship included with every Plyant CQ) allow mounting vertical (Zero-U) PDUs of all major brands.
Plyant CQ's Air Manager mounts to the enclosure's bottom U for controlling the flow of conditioned air into the front of the enclosure. An adjustable slide allows the amount of air to be adjusted as necessary.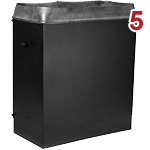 Plyant CQ's Exhaust Chimney serves as a duct that assists in the removal of hot air from the enclosure. Removing exhaust air can be accelerated through the use of Plyant CQ's Chimney Fan Tray. A soft grommet seal at the top of the chimney ensures a tight fit between the chimney and the ceiling, with a tool-less 14-inches height adjustability.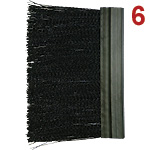 Rear side-posts are fitted with two 110 square-inch cable pass-through cut-outs running the entire height of the cabinet designed for side networking cable access. Optional Side-Access Brush Grommet Kits seal gaps around cables to prevent air recirculation.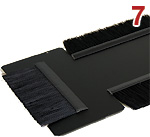 Plyant CQ Brush-Grommet Top Panel seals the gaps around cables to prevent air recirculation, keeping airflow disruption to a minimum while allowing overhead cable access..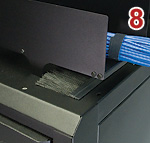 Plyant CQ cable-access cut-outs at the top of the cabinet allow overhead cabling, while an optional top-access brush-grommet kit assists with thermal management without hindering cable-management.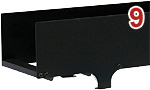 Plyant CQ Top Cable Trough can be mounted over top cable-access knockouts so that cables are supported along the bend radius.

Plyant CQ Ladder-Rack Brackets support ladder-rack systems, eliminating the need to suspend ladder-racks from the ceiling.