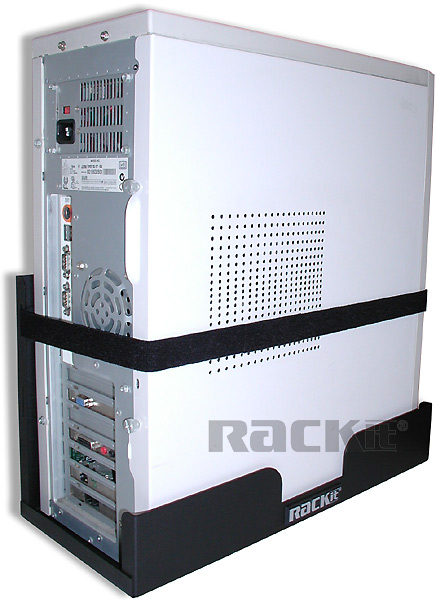 Desktop/Tower Wall Mount Brackets.
Everyone needs Wallit™ CPU to protect their PC.
Computers located on the floor are in continual danger of being jostled and kicked, not to mention the difficulty in accessing the drives, ports, and card readers. Desktop computers and PC's that sit on a desk take up valuable work space, look cluttered and unorganized, and run the risk of being damaged by a soda or coffee spill.
Wallit™ CPU protects the PC and creates a more functional, organized workspace.
Wallit™ CPU is a desktop/tower wall-mount bracket designed to get the computer off the floor (or off the desktop).
Designed for a full size tower/desktop PC, Wallit™ CPU mounts in minutes to any wall or desk and makes it easy to secure and mount any desktop/tower PC to the wall or to the side of the desk.
Wallit™ CPU DT ships with a Velcro strap included to secure the PC to the bracket.

Rackit's Wallit™ CPU is made in the USA, constructed of heavy-duty steel with black powder-coat finish and is backed by our Limited Lifetime Warranty.
Computer shown for reference only
KVM Switch, Server Rack, LAN management cables, KVM Switches, rackmount, computer rack