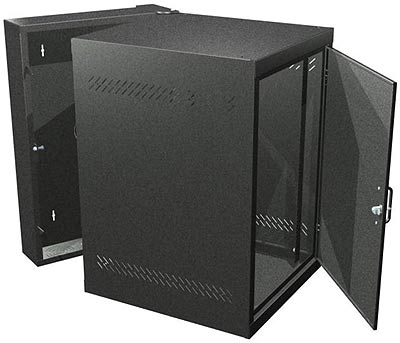 Extra-deep 4-post wall-mount datacom/telecom distribution enclosure with a swinging frame
Wallit™ Swing-Out DP provides 19" rack-mounting capability on a swing frame within an extra-deep distribution enclosure that is designed to be mounted to the wall.
The deep Wallit™ Swing-Out DP enclosure features a center swing-out section that gets closed off with a front locking Plexiglas door (or an optional solid door). A unique hinge system allows separating the center swing-out section from the rear section for easy installation. A simple-to-use finger pull/latch mechanism located inside the enclosure opens the 26-inches deep center swing section.

Available at 24-, 36-, and 48-inches in external height (11U, 18U, and 25U respectively), Wallit™ Swing-Out DP's swing-out capability offers outstanding front and rear access to cables and mounted equipment, with a maximum usable depth of 30-inches on the 19" rack-mount rails.
Optional casters increase the weight capacity and stability of the enclosure, adding the versatility of a floor-mounted application. The optional casters, along with the unique hinge system, also facilitate remote installation of equipment before wiring at final location.
The 6" deep wall-mount section features top and bottom knockouts for cable-conduit access (1 to 3 inches in diameter), as well as one (centered) rear knockout, for easy cable entry, and convenient maintenance.

Equipped with ventilation slots on the cabinet's sides, the fully welded Wallit™ Swing-out DP enclosure is constructed of heavy-duty 14 gauge steel, and feature a reversible mounting design, making left or right hand swing-out possible. Optional "Dust Resistant Kit" contains filters and panels to seal the vents and openings.
The swing-out frame consist of two sets of pre-tapped #12-24, 11 gauge steel, 19" rack-mount vertical mounting rails (with a continuous adjustable depth positioning up to 23" in depth) , in which optional shelves and accessories may be positioned at any desired height.
KVM Switch, Server Rack, LAN management cables, KVM Switches, rackmount, computer rack