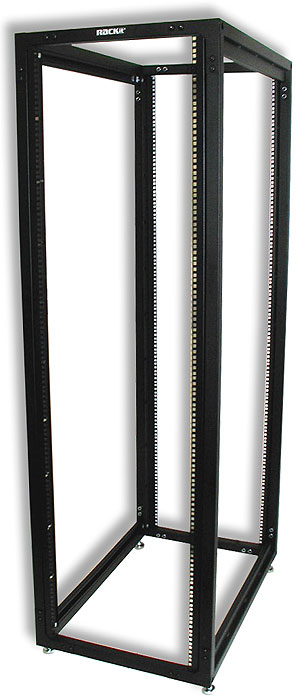 4-post open rack with continuous depth adjustment and optional casters
When you're looking to bring costs down, and when limiting access to any individual rack is not a security requirement, Servit™ AX is the perfect alternative to the more expensive enclosed racks, offering continuous depth-adjustment capability, optional locking casters, multi-depth mounting and high weight rating.
A one-size-fits-all, Servit™ AX mounting rails can continuously adjust to support 4-post mounting depths of 6 to 36 inches.
With a heavy-duty construction rated at 2000 lb (1000 lb on casters), Servit™ AX features mounting rails with universal square holes (for cage-nuts), providing 41U (rack-mount units) of front and rear mounting support for modern rack-mount servers.
Servit™ AX can optionally be fitted with casters to support applications that require the rack to be frequently moved around.
Servit™ AX also supports multi-depth mounting. An optional 3rd set of rails can be fitted in the rack so that it can support 4-post mounting of equipment that has two different depths.

KVM Switch, Server Rack, LAN management cables, KVM Switches, rackmount, computer rack