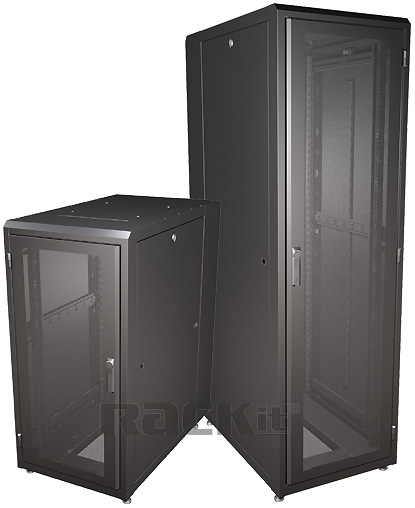 Available at 24U, 41U and 44U rack spaces as a full-size (42-inches deep) enclosure with heavy-duty structural integrity that supports loads of 2,000 lbs., Plyant CQ enterprise-class cabinet system easily manages increasingly deeper server-densities, integrates abundance of power, provides excellent heat dissipation and offers intelligent heavy-duty cable management in a holistic approach that helps manage the increasing complexities of the IT environment.
[See Plyant™ Low-Boy for smaller (13U, 30-inches high) applications, and Plyant™ CL for a range of 24U to 44U enclosures, at either 32" or 36" in depth.]

Plyant CQ racks feature a 12-gauge rugged and reinforced base with 14-gauge steel posts formed 5 times for extra strength to support increased weight capacity, even when on casters. Reinforced rear side-posts increase structural integrity, while allowing for lighter and easier to handle side panels.
With true 24-inch external width – allowing for consistent enclosure alignment on 24" raised tile floors – Plyant CQP base is designed for floor anchoring, and can be deployed using levelers or heavy-duty caster kits, or both combined, with optional anti-tip legs to support heavy loads of slide-out servers.
Plyant CQx rear corner posts feature cable pass-through knockouts for easy cable passage between networked (ganged) cabinets. Top cable access knockouts at the back of the cabinet's frame, along with optional horizontal (sideways and front-to-back) cable trays and vertical cable management that can run in each corner post make Plyant CQC the rack of choice for cable-intense installations.
Optional brush-grommet kits improve thermal management and keep the dust out while maintaining the cabinet's full cable-management functionality.
12-gauge universal (square holes) U-index rack-mount mounting rails are pre-set at 29" apart (front-to-back) and are infinitely adjustable to be positioned anywhere within the depth of the rack.

The variety of lift-off doors are supported by 3 hinges, allowing them to swing open 180°.
24" wide Plyant CQP is designed for standard server and network 19" rack-mounting applications.
30" wide Plyant CQC is ideal for cable-intense installations, providing extra space for running extensive cabling, including front-to-back cable trays,within a 19" or 23" rack-mounting application.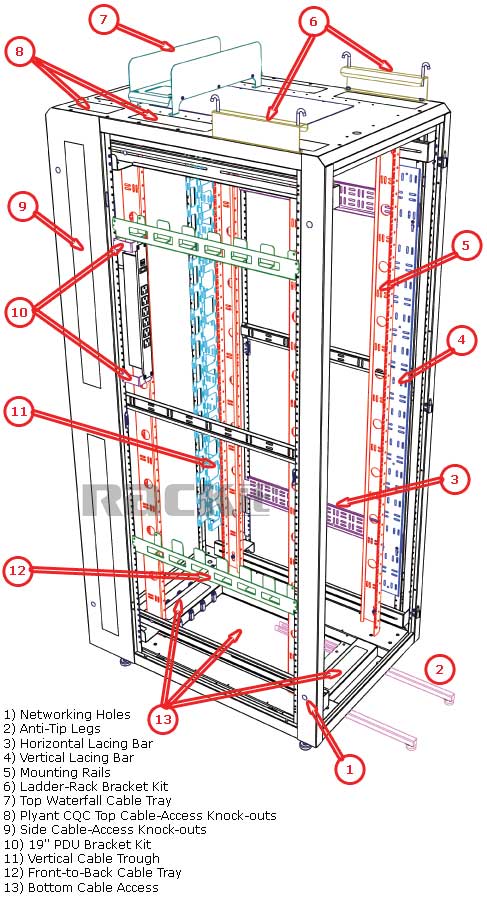 Configured with the most popular components, Plyant CQ Redi-Ship are pre-configured racks, offering the convenience of one-part-number-ordering and discounted pricing (compared to A-La-Cart pricing).
Plyant CQ wealth of options include (check out options tables for availability):
Base Units – 30" wide CQC models (41U and 44U); 24" wide CQP modles (24U, 41U and 44U)
Doors – Plexiglas; Vented; Plexiglas-Vented; Mesh-Vented; Solid; Mesh; Vented-Mesh; Beveled-Mesh; Split-Mesh; Split-Fan.
Door Handles – 6 different styles.
Tops – Solid; Perforated; Vented (225 CFM, 550 CFM, 1100 CFM).
Side-panels – Solid; Louvered.
Feet – Anti-Tip Legs; Leveling Feet; Casters; Leveling Feet and Casters combined; Seismic Anchoring.
Ventilation – Split-Fan door; Bevel-Mesh-Door integrated exhaust fan; Vented Tops.

Plyant CQx assortment of accessories include:
Also known as: 19-inch Rack-Mount, 19-inch Server Rack, Computer Cabinet, Computer Rack, Computer Rack-Mount, Computer Rackmount, Computer Server Rack, Datacenter Rack, LAN Rack, Rack Enclosure, Rack-Mount Cabinet, Rack-Mount Enclosure, Rack-Mount Solution, Rack-Mount System, Server Enclosure, Server Rack, Server Rack-Mount, Workstation Rack
KVM Switch, Server Rack, LAN management cables, KVM Switches, rackmount, computer rack