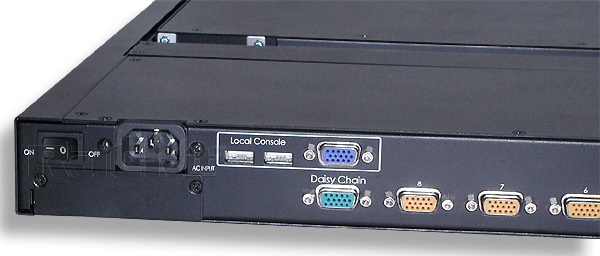 • Multi-Platform support for any mix of USB and PS/2 servers.
• 105-key full-featured Windows keyboard, with a dedicated numeric keypad.
• 2-button integrated touch-pad pointing device supporting Windows functionality.
• A dedicated console port for connecting second (external) set of USB/VGA peripherals.
• Only 1U (1.75" high) of 19-inch rack-mount space.
• Built-in integrated KVM switch that allow controlling up to 16 USB and PS/2 servers.
• Cascading port supports the connection of 7 more levels of KVM switches, for port expansion to control up to 128 servers from one console.
• High-brightness and high contrast-ratio active TFT LCD flat panel integrated folding display.
• 19" or 17" active TFT LCD display supporting crisp video resolution up to 1280 x 1024.
• Anti-glare tempered glass protects the flat-panel display, adding enhanced visibility.
• Laptop-style tilting display provides for short pull-out and minimal intrusion into the aisle space in front of the rack.
• On-Screen-Display (OSD) that allows assigning names to the attached servers, searching and selecting them by name.
• Alternate server selection via channel push-buttons, or hot-key keyboard combination.
• Auto-scan mode for monitoring servers.
• Eight-character user-password protection.
• High-grade integrated (all-in-one) USB and PS/2 KVM cables (6-feet USB cables ship included).
• Adjustable rear mounting brackets support rack-mounting onto deep racks.
• Smooth-operating sliding rails that self-lock when pulled all the way out.
• Industrial-grade heavy-duty steel construction, with built-in thumb screws for securing the unit when folded and pushed all the way in.