Multi-platform (USB-PS/2) rack-mount LCD KVM console drawer/switch
NOTE: USB or PS/2 cables are purchased separately* (see listing under the Buy Now tab)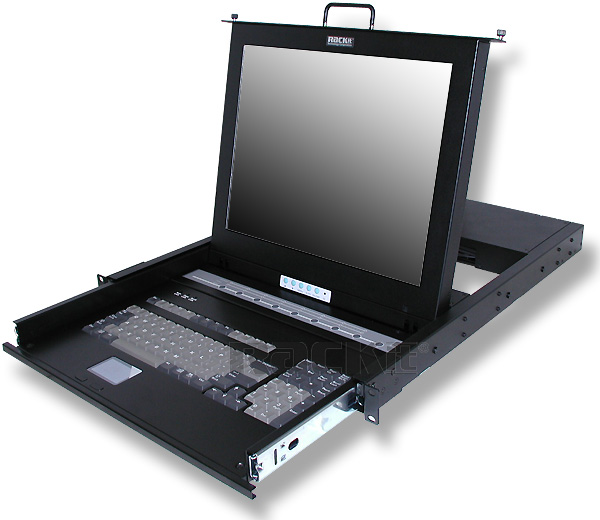 Using only 1U of EIA rack space (1.75" high), Sylphit-MP rack-mount integrated KVM computer console/switch is designed to interface with any mix of USB and PS/2 servers in a space-saving 19" rack-mount applications.
Sylphit-MP LCD KVM drawer features a fully functional 105-keys Windows keyboard (including a dedicated numeric keypad), an integrated 2-button touchpad pointing device, and an active TFT LCD flat panel display – protected by anti-glare tempered glass.
Controlling multiple USB and PS/2 servers, Sylphit-MP features a 19" or 17" laptop-style tilting flat-panel LCD display that requires little pullout to tilt open and – as a result – hardly protrudes into the aisle space in front of the rack.
Sylphit-MP also features the ability to connect a 2nd (external) console (VGA monitor and USB keyboard/mouse). This feature is facilitated through two (2) industry-standard USB Type-A connectors and one (1) HD15 VGA (female) video connector at the back of the unit.
Equipped with industrial-grade heavy-duty slide-out rails with depth-adjustable rear mounting support, Sylphit-MP KVM drawers can be mounted in any standard 19" 4-post rack available in the market.
A multi-port console/switch (with integrated KVM switch)
Sylphit-MP features a built-in, fully integrated 8- or 16-port multi-platform (USB and PS/2) KVM switch, and is available with 19-inch or 17-inch displays.
Port expansion is supported via a dedicated cascading port that facilitates the connection of up to seven (7) more levels of KVM switches, to control up to 128 servers.
On-screen-display (OSD) allows assigning names to the attached servers, and selecting them by name. OSD also provides search-by-name capability. Alternatively, server selection can be achieved via channel push-buttons, or hot-key keyboard combination.
Sylphit-MP has an auto-scan mode for automatic monitoring of attached servers, and built-in support for eight-character user-password security protection.
Sylphit-MP features eight or 16 special HD15 server-connectors. Integrated (all-in-one) USB KVM cables (with USB keyboard/mouse and VGA video connectors on the server end) or PS/2 (3-in-one) integrated KVM cables (with PS/2 keyboard, PS/2 mouse and VGA video connectors on the server end) are available [purchased separately] at various lengths.
* You must use Sylphit integrated KVM cables** (which are purchased separately - see listing under the Buy Now tab) to connect this Sylphit model to your computers. Using cables other than Sylphit Integrated KVM cables may render Sylphit inoperable and may void the manufacturer's warranty.

** Sylphit integrated KVM cables have an HDD-15 single connector on one end (connecting to Sylphit) and a Blue VGA connector with one (USB) or two (PS/2) "pigtails" on the other end (connecting to a computer).
Also known as: Rack mount KVM drawer, USB keyboard monitor drawer, Rackmount LCD monitor keyboard drawer, USB KVM drawer, Rack mount monitor keyboard, Rackmount TFT LCD monitor, Rackmounted keyboard tray, keyboard drawer, KVM console
KVM Switch, Server Rack, LAN management cables, KVM Switches, rackmount, computer rack