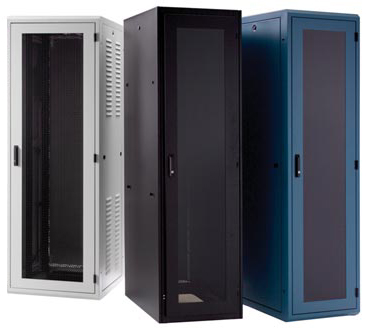 Plyant CL line of enclosed racks raises the bar for performance and value in the enterprise.
Available in a range of heights (24U to 44U full-height), at either 32" or 36" in depth, Plyant CL enterprise-class rack/cabinet system combines next-generation structural integrity and ease of use capabilities to deliver industry-leading performance.

[See Plyant™ Low-Boy for smaller (13U, 30-inches high) applications, and Plyant™ CQ for full-size (44U, 42-inches deep enclosures).]
Specifically designed to ensure outstanding performance and seamless integration throughout the entire enterprise, Plyant CL enclosures offer excellent cable-access and cable-management capabilities, and extensive customization through a wealth of mix-and-match options for doors, tops, bottoms, and side-panels.
24" wide Plyant CLP models (for 19" rack-mounting) are designed to perfectly match the width of a standard raised-floor tile for ideal cable-access.
29" wide Plyant CLC models (for 19" or 23" rack-mounting) are ideal for cable-intense installations, providing extra space for running extensive cabling within the rack.

Configured with the most popular components, Plyant CL Redi-Ship are pre-configured racks, offering the convenience of one-part-number-ordering and discounted pricing (compared to A-La-Cart pricing).

Plyant CL wealth of options include (check out options tables for availability):
Heights – 24U, 31U, 37U, 44U.
Depths – 32", 36", plus up to two (2) 4-inch deep Depth-Extension Modules.
Doors – Plexiglas, Vented, Plexiglas-Vented, Solid, Mesh, Bevel-Mesh, Split-Mesh. – 6 different styles. – Solid, Perforated, Louvered, Vented (225 CFM, 550 CFM, 1100 CFM).
Door Handles
Tops
Bottoms – Solid, Filtered, Brush-Grommet.
Side-panels – Solid, Louvered.
Feet – Anti-Tip Legs, Leveling Feet, Casters, Leveling Feet and Casters combined, Seismic Anchoring.
Ventilation – Bevel-Mesh-Door integrated exhaust fan, Vented Tops.

Plyant CL assortment of accessories include:
Also known as: 19-inch Rack-Mount, 19-inch Server Rack, Computer Cabinet, Computer Rack, Computer Rack-Mount, Computer Rackmount, Computer Server Rack, Datacenter Rack, LAN Rack, Rack Enclosure, Rack-Mount Cabinet, Rack-Mount Enclosure, Rack-Mount Solution, Rack-Mount System, Server Enclosure, Server Rack, Server Rack-Mount, Workstation Rack
KVM Switch, Server Rack, LAN management cables, KVM Switches, rackmount, computer rack